With the increase of concerning incidents occurring on the TTC properties & in trains , streetcars & busses, 53 Division would like to strongly recommend TTC customers getting & using the TTC "SafeTTC" App.
The SafeTTC App is a mobile app for both iOS and Android that offers TTC customers a quick and discreet method for reporting harassment, safety concerns or suspicious activity directly to the TTC's Transit Control Centre.
Using this app, customers can do their part to help make transit safer for all by providing detailed reports of incidents and situations that are observed on the TTC system – whether on a vehicle, in a station or at a bus or streetcar stop.
From the app home screen, customers have two easy options for contacting Transit Control:
• The "Report a Problem" button allows users to send text and photos or videos directly to Transit Control. When reporting an issue, customers can select from easy drop-down menus for vehicle type (bus, streetcar or subway), route numbers, and station locations, and report categories to assist Transit Control in assessing the situation.
• * The "Call Police" button will connect customers directly to 9-1-1 dispatch and should only be used when emergency police, fire or medical assistance is required.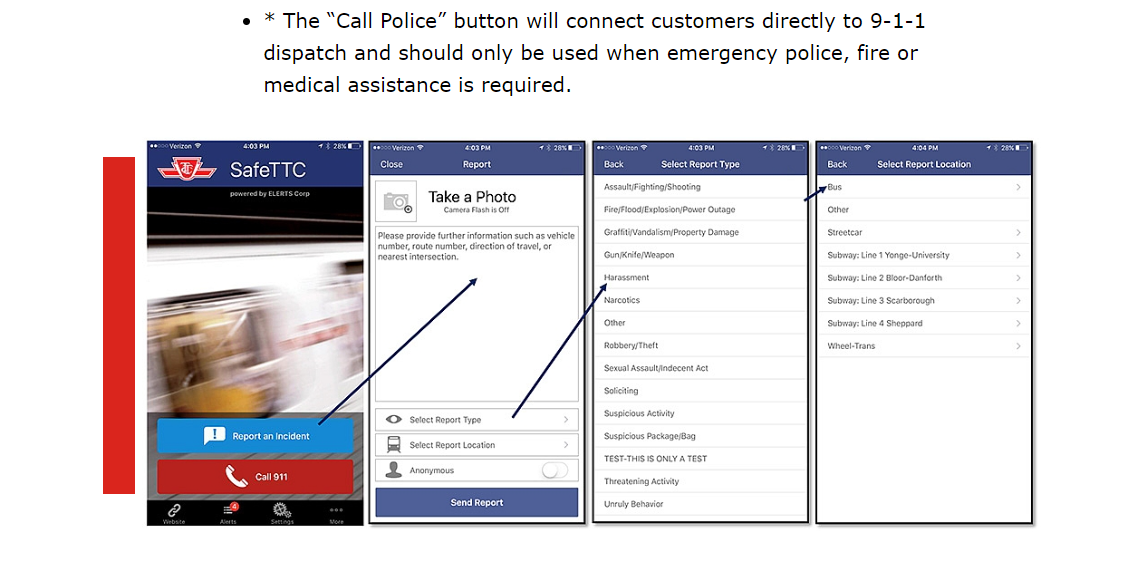 NOTE: Sending a report through this app will not summon emergency responders. Always call 9-1-1, either through the app or on your phone, in the event that emergency police, fire or medical assistance is required.
If you have any questions , comments or concerns, please contact me by phone or email.
Thank you
Constable Timothy Somers #90023
Toronto Police Service
53 Division
Community Response Unit
Crime Prevention – Community Safety Officer
Office 416-808-5337
Mobile 416-473-6314